Date of biog: 1 October, 2017
Austin is currently working as the Fitness, Nutrition and Performance lead at McNulty Performance – McNulty performance are a company whose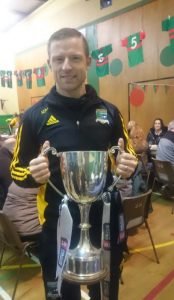 services and programmes include High Performance Coaching, Teamship & Leadership,  Energy Management & Wellbeing and Mindset & Resilience Training.
He has over 15 years of experience working, playing and coaching in high-performance teams which include Mayo, Wicklow, St Vincent's UCD & Sligo IT. He is currently still playing with his home club Louisburgh while also managing the strength & conditioning element of their performance set up.
Austin has also just taken up the post of UCD Fresher Football Manager for the 2017/2018 academic year.
He has worked previously for a number of years within the education sector, while he holds a number of academic qualifications including a HDip in Education, BBS degree in Business, HND In Leisure & Recreation management, Diploma in Sports Management and is currently finishing a BSC in Strength & Conditioning.
He has garnered success at every level which include Connacht titles, National League, Sigerson Cups and senior club championships in  Dublin and Wicklow, while winning  intermediate and of county and Connacht titles with his native club Louisburgh. He has acquired numerous other accolades throughout both his professional and sporting careers.